What is Lumen Depreciation?
Lumen is the scientific unit of luminous flux. It is a measure of the total quantity of visible light produced by a source.
The total lumen output of a fixture decreases gradually as the fixture ages. Such process of decreasing of the lumen output produced in a bulb during its lifetime is called Lumen Depreciation.
The rate at which lumens depreciate in a light source might depend on several factors such as the type of lighting technology used, total hours used, environment, turning the fixture on/off etc.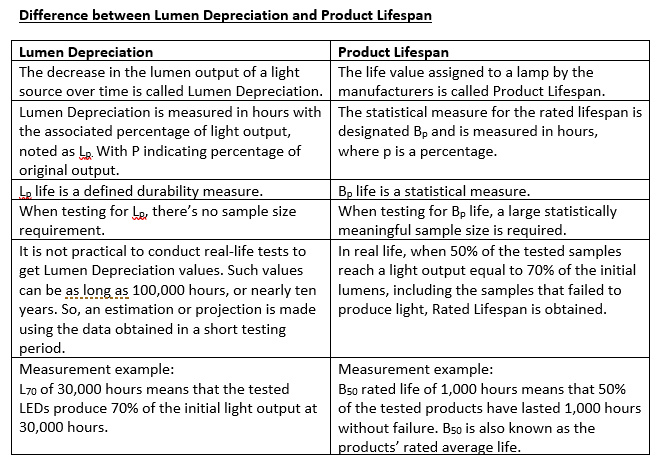 Methods for Calculation of Lumen Depreciation
L70
L70 is simply a measure of the time taken by a light source to degrade up to 70% of its original output.
It is usually measured in hours and refers to the degradation of total light output i.e. lumens.
L70 of 30,000 hours means that the tested LEDs produce 70% of the initial light output at 30,000 hours.
LM80
LM80, more properly referred to as "LM-80-08" is a test method authorized by the Illuminating Engineering Society of North America (IESNA). It is titled "Approved Method: Measuring Lumen Maintenance of LED Light Sources".
LM 80 specifies the test conditions and methods to be used to measure and report the lumen maintenance. The required data is collected every 1,000 hours for a minimum of 6,000 hours.
TM-21
The TM-21 test is titled as, "Projecting Long Term Lumen Maintenance of LED Light Sources." TM-21 describes a method for projecting the lumen maintenance using the data collected during LM-80 testing.
This is the best method for the analysis of Lumen Depreciation or Maintenance.
Lamp Lumen Depreciation (LLD) and Maintenance Factor (LLMF) for Different Light Sources
Lamp Lumen Depreciation (LLD) is a factor used by lighting designers to predict the depreciation in light output for a specific light source over a defined period.
The Lamp Lumen Maintenance Factor (LLMF) expresses the usual reduction of the lumen output over the lifetime.
Let's take an example.
LLMF= 0,96 after 2000 hours:
It means that after operating for 2000 hours, the light bulb will still emit 96% of its original lumen output.
Similarly, LLMF of different light sources is calculated from the ratio of their light output over their rated lifetime which is given below: